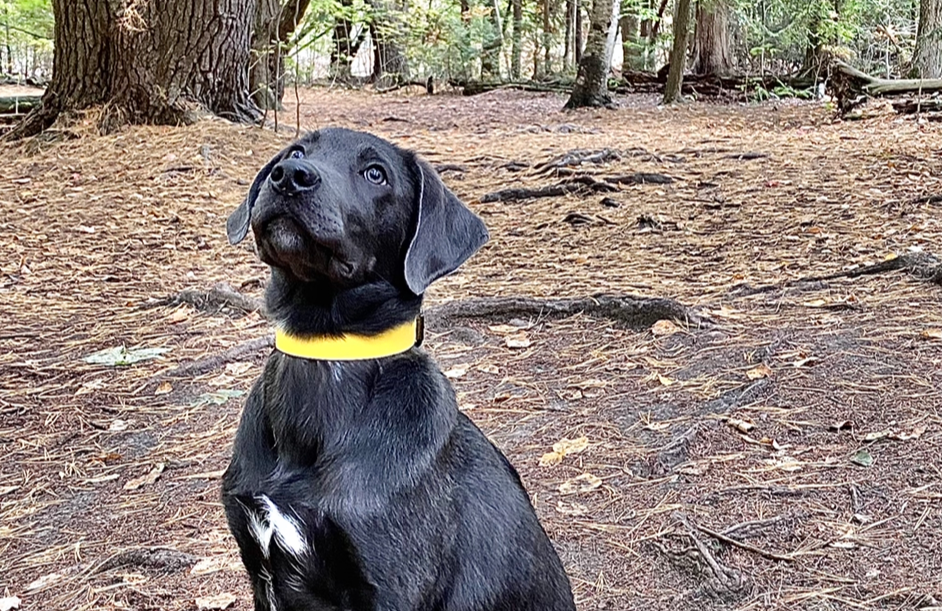 One of the things I love most about Ajax, are the incredible options for taking my pal Sunny for a walk. Some days it's a quick loop and other days,  we explore for hours. Here are 5 of the best places I have found equally inspiring for both human and dog!

1. GREENWOOD CONSERVATION AREA
Go explore the trails amongst the Hemlocks. Like a sanctuary of trees, the forest canopy keeps you sheltered in all seasons. It's never too hot, too wet or too cold on this trail. Caution should be exercised in winter, as the trails are very icy. 
This inspiring walk has its share of hills and you can even loop around by the river. Many dogs do swim in the river, but it is an Ajax bylaw that dogs not go in the waterways.
(Leash required, except in off leash section close to 5th concession) 
Walk forever (it seems) on paved trails that loop back on themselves for an easy stroll with your four legged pal. Park at Rotary park and walk to Paradise Park and back, or head East into Pickering. With over 25km of trails along the waterfront, this route will never get boring. (Leash required all times)
3. DUFFINS CREEK TRAIL (Trans Canada Trail)
Hike through the forest and along Duffins creek as you make your way from Rotary Park to Bayly or from Mill Street to Rossland (or connect them both).  This trail is a prepared pathway, but a naturalized one and can be slippery in colder months. This is not a leash free trail and it is advised to keep your dog on the path, as Hogweed and Poison Ivy have been found off the trail. (Leash required at all times)
Stroll through the village, grab a coffee , a cupcake or an ice cream in one of the local shops and have a look at all the beautiful historic assets Ajax is proud to have and works hard to preserve. This area along Old Kingston road is a great short loop or if your dog just likes to be with you while you check things out. If you want to extend the walk further, you can connect to the Duffins trail on the other side of Elizabeth, or link to Hermitage park and let your pal run free in the small Hermitage Off-Leash park. 
This is the newest addition to the Off-Leash areas the Town of Ajax offers residents. Located near the A.R.C. (Audley Rec Centre) at Audley and Williamson Dr E, your pup can run free in this safe, gated off leash park with other dog pals. It's a great spot to head on the weekend with your coffee in hand. It is suggested that you not wear any fancy clothing, as this park can get muddy and you never know when an excited dog might greet you with their paws!
Want other suggestions or more information on local dog parks or pet friendly businesses? Send me a message
HERE